Many of you are familiar with store-bought baby food being available in both pouch and jar form now.
Earth's Best
sent me a variety of their pouches to review, and I'm happy to say these have been fantastic for us!
If you remember correctly, I am a big fan of baby-led weaning, and didn't want to be feeding my child purees. With Bobble pushing 2 years old, however, I've had to get more creative. Grabbing an Earth's Best Greek Yogurt pouch and chasing him down to squeeze some in his mouth before he runs over to his cars or blocks has become fairly common. He loves yogurt, and he loves eating... but he loves playing more. While he knows how to feed himself, sitting him in a chair to eat is more likely to find me cleaning yogurt out of his hair, the curtains, and the carpet than it making it into his belly if he is in that playful mood. Thank goodness for these pouches!
While we get Bobble to eat table food most of the time, sometimes it's simply a losing battle. Trucks are more interesting. His balls are more interesting. Heck, the cats are more interesting! When it's time to eat and he simply isn't going to sit still, at least I know if I grab an
Earth's Best Organic
pouch that he'll be getting healthy food that is free of all those nasty things (like antibiotics, pesticides, hormones, GMOs, etc.) and full of everything this super busy toddler needs (wholesome grains, organic fruits and veggies, plentiful vitamins and minerals).
Sure, ideally my son would sit at the table, skillfully use his utensils, wipe up his own messes, and always eat every last bit on his plate. Of course, in reality, I can't give him a plate without it being thrown at some point, so I pick my battles. Finding food that he thinks tastes great and I know is great for him doesn't have to be a battle with Earth's Best. Between all the pouches they offer, I have everything from simple fruits, yogurt smoothies, and simple veggies, to delicious combinations of flavours like Pumpkin Cranberry Apple and Apple Peach Oatmeal... and it's all at my finger tips.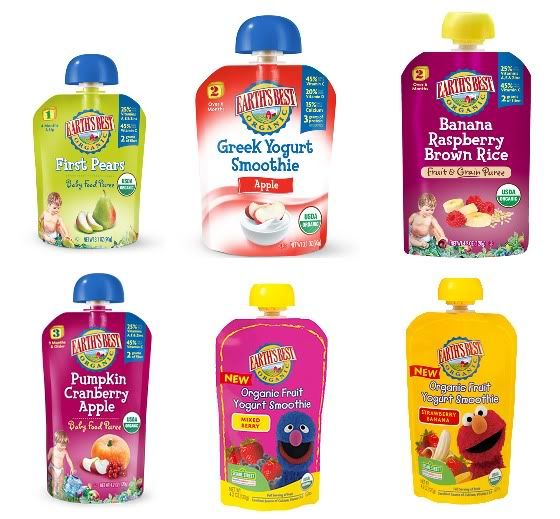 I keep two pouches in my diaper bag for those times I'm on the run and need to feed Bobble while we're out and about, and there are always a few at home for those times he just is too busy to sit down and eat.
Available in
1st Foods Pouches
(for babies 4 months and older),
2nd Foods Pouches
(6 months and older), and
3rd Foods pouches
(9 months and older), and their
Just For Toddlers pouches
(Sesame Street Fruit Yogurt Smoothies), there is something for every stage your baby will be in!
You can find Earth's Best Pouches at a grocer near you that carries Earth's Best products, or you can use the
Earth's Best Store Locator
to find a location near you! You can also order them online at the
Earth's Best Store
, from Amazon.com, any other online retailers where you can buy Earth's Best pouches!
You can also enter to win a sampler pack of Earth's Best Pouches
HERE
!
Disclosure: The product mentioned above was provided to me by Earth's Best for review. This did not influence my opinion of the product in any way. My opinions are my own and may differ from those of your own.