Being a big fan of baby-led weaning, I admittedly had limited knowledge on jarred baby foods. As you might know from
previous posts
, I have had experience with some food pouches (especially as of late!), but I've never gone out and purchased a jar of baby food for Bobble. Never.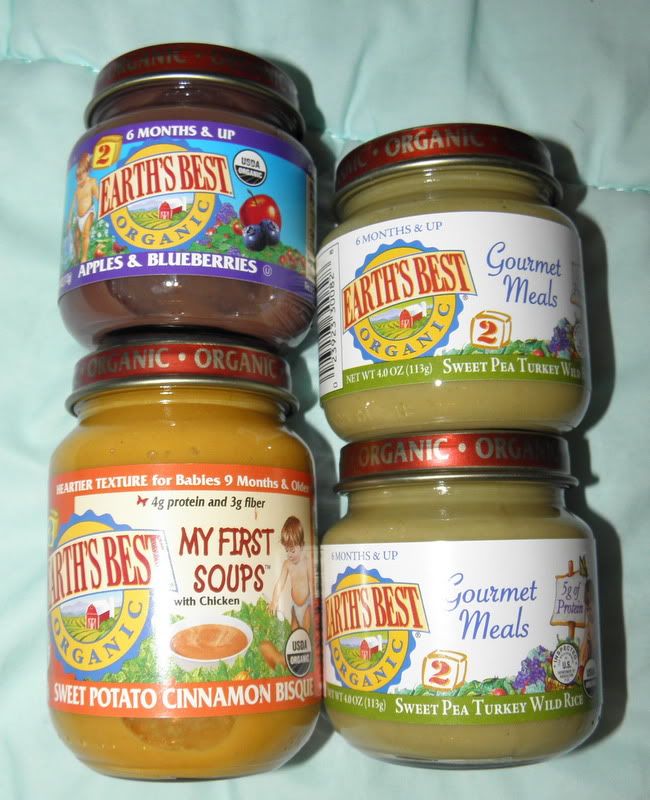 Earth's Best
recently sent me a couple jars of baby food (they have LOTS of flavours of jarred foods!), and, admittedly, I stared at them with no idea what to do. I didn't really want to spoon feed them to my toddler (nor did I think he'd be a fan of that idea), but I still wanted to use them. One of the jars, Apple & Blueberry puree, sounded like a winner. Then I realized something! I could mix the jarred fruit purees in with some greek yogurt for Bobble! He loves yogurt! Still, I wanted to see if he liked the flavour of the food first, so I popped open the jar (took a taste myself -- yum!) and grabbed a spoon.
Bobble was watching a show since I had been switching over the laundry, so he was preoccupied when I went in there. I got a spoonful and tried to get it in his mouth. He kept turning his head, but finally took a small taste since I told him he could keep watching his show if he tasted it. He loved it. I let him have a little bit more, but didn't realize I was actually doing something that wasn't exactly 'safe'.
Like I said before, I never had purchased baby food JARS, and it never dawned on me that there would be rules for how to use them. Sure, I knew you shouldn't let them sit out after opening, and I figured you should throw them out if not used within a couple of days of opening.... but some of it I just never thought of.... like washing the jar and lid of the container before opening it. Sure, thinking back, that makes sense. Who knows what could have touched it when stocking the shelves! Also, it's recommended that you spoon food into a bowl instead of feeding directly from the jar. Another thing I completely didn't do. Oops.
Check out Earth's Best's post on
Keeping Baby Food Safe
to make sure you're keeping your little one's food safe!
As far as the debate over jarred food or pouches of food, I think I've learned that there is a place for jarred food in our household. For the most part, pouches are best for us since we usually just keep them on hand for on-the-go situations. I really like the idea of having the jars (of fruit) on hand to mix into yogurt, though. You could also use those for adding to cakes, muffins, breads, etc., and have more flavour
and
moisture! (Not to mention more vitamins!!!)
Were you aware of the ways to keep jarred food safe?
Disclosure: The product mentioned above was provided to me by Earth's Best for review. This did not influence my opinion of the product in any way. My opinions are my own and may differ from those of your own.