Getting our children to eat healthy is not as easy as it sounds. Fastfood chains advertise everywhere imaginable, school lunches are not that good for them (nor are they usually good tasting, either), and pre-packaged lunches are stuffed full of preservatives (among other things). Many places also are implementing a "no peanutbutter" policy due to the high number of allergies people have. Even then, pb&j gets old after a while, doesn't it?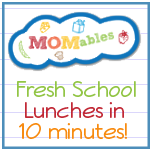 Wait, you haven't heard of MOMables yet? Let's take a peek at a few things from their
About MOMables
page to get a bit more insight!
What is MOMables™?


MOMables shows busy parents how to make fresh school lunches in 10 minutes or less.



MOMables = ˈmɑm·á·[bles]. Mom made, simple and nutritious. We've worked with dozens of moms, a chef and a nutritionist to create healthy lunches kids will actually eat.

Every parent I know, wants to pack a wholesome school lunch for their kids, but packing them daily, and oftentimes year-round, can be time consuming and boring. As a mom of 3 kids myself, I know this process very well. I personally pack over 540 lunches in one school calendar year. Without a plan, I run out of ideas fast.

Yes, you read that correctly... fresh lunches in TEN minutes or less! What could be better than a homemade lunch that is healthy, fresh, the kids will eat, and will save you on average of $1-2 per day, per child. Oh, also the impact on the environment! You're eliminating all that garbage generated by pre-packaged lunches, too. MOMables fit great inside many types of lunchboxes such as the EcoLunches Boxes (
see one of my reviews here for their sandwich box and ecodipper
), the
Laptop Lunches Bento Box
, and more. These will eliminate your need for ANY disposable products in your little one's lunch, and you can find them in the
MOMables store
!
So how does this MOMables meal plan solution work? Each week a new file is available for you, full of different meal solutions for that week. You have enough 'menus' for the school week. There are separate sections for "cook ahead items", some kitchen notes, the recipe/directions for each menu item (along with awesome pictures of the meals ready to go), and even a shopping list to make it easy on you. One of my favorite things was the dinner recipes that would get sent out (I saw those in the summer) that double for an easy leftovers lunch! There are also little snack/dessert ideas to accompany the lunch menu, though they (thankfully) aren't always something really sweet. (I'm not a huge fan of high-sugar items).
Let's take a look at an example of one of the recipes! (Nothing like a sneak-peek, eh?)
BBQ Chicken Salad Sandwiches Lunch!
So the above is one of the lunch recipes for BBQ Chicken Salad Sandwiches. There are also MOM tips that are really helpful/handy with these recipes (as you can see below the directions).
And below, you can see a fully assembled lunch, ready to go!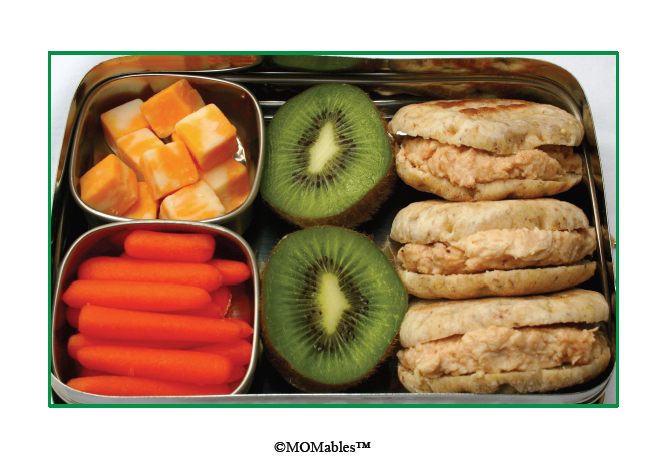 Don't forget the shopping list!!!
What could be any easier? Well, aside from them coming to your house and making it, too! Healthy, fast lunches for your children, tips to help accommodate pickier eaters, and a shopping list ready to go.
You have the opportunity to win an awesome THREE-MONTH subscription to MOMables here on my blog! If you are wondering if it's really worth it, just remember that the subscription fee evens out to be about 25 cents per day. That's not very much! Still wondering if this is really something you could us? Why not check out the
sample menu
available on their page? You can also get access to one of their weekly menus for free by signing up
HERE
. If you are questioning a subscription
a Rafflecopter giveaway
Disclosure: I receive sample(s) of the product for the purpose of testing and review. These opinions are my own and may differ from those of your own. Thoughts Of Fluff is not responsible for shipment of the prize(s).