With the summer sun growing seemingly hotter by the day, many mothers are looking for a natural sun screen to protect both them and their little ones. This is how I found
Episencial
. Episencial makes natural products for your whole family, and is great for those with skin sensitivities. The company was kind enough to send me their
3-Step System
for review. This 3 pack contained their Soothing Cream, Playful Wash, and Sunny Sunscreen.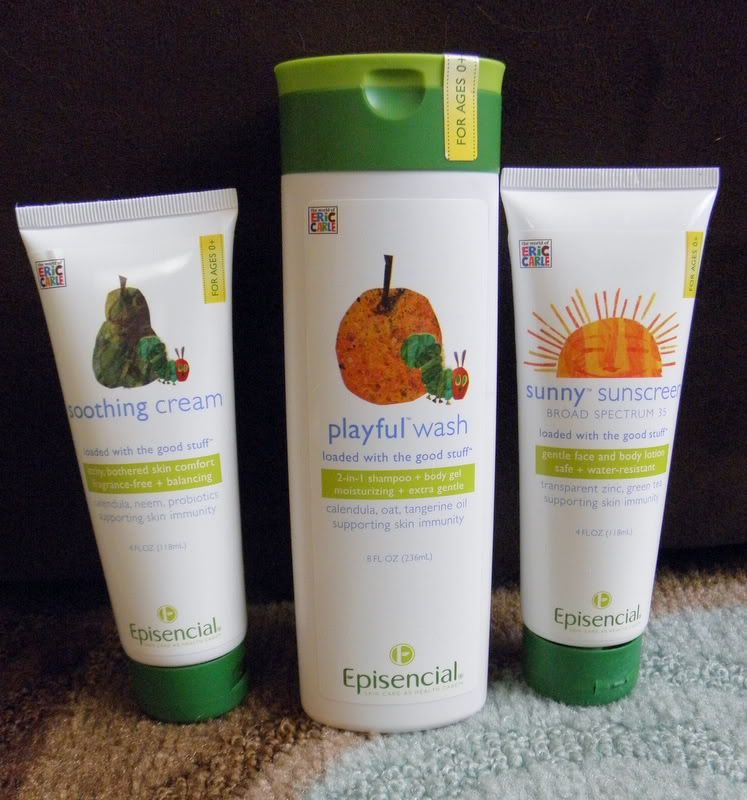 The first item we used was the Sunny Sunscreen since it has been very sunny and my little Bobble loves playing outside. The sunscreen doesn't really have much of a smell other than normal "lotion" smell. It's not strongly scented like when someone walks by you in the store and you get a sudden whiff of sunscreen. (That actually happened to me this morning!) The sunscreen rubbed in very easily, and it didn't leave you feeling (or looking) oily or greasy. I liked that I could apply it to my son and not rub it in all the way (so his skin was still white from the sunscreen) to make sure I didn't miss any spots, but that it rubbed in super easily once I was done applying it. We've tried this sunscreen while just playing outside, while playing in the hose, playing in a kiddie pool, and playing in a big pool. Here in the Midwest, we've been pounded with scorching hot temperatures and sun, so when I saw the SPF on the Sunny Sunscreen was only 35, I was a tiny bit concerned. I'd been using higher SPFs for our little one, but hated the chemical-laden products. Now I'm wondering if that higher SPF was even necessary as none of us have gotten burned (or even dried-out skin!) since using Episencial's Sunny Sunscreen. Not one burn! Very impressive!
The Playful Wash is a 2-in-1 shampoo and body gel. I decided to test this on myself since Bobble doesn't really have much hair to test it on and my hair is VERY thick. I loved the scent of the Playful Wash immediately. It was a subtle orange scent (it has tangerine oil in it) that didn't overpower you at all. I am very sensitive to scents, and I quite often find myself sneezing at anything and everything… even my deodorants! I have found that natural scents don't really aggravate me, and this held true with the Playful wash. Episencial doesn't use fragrances, just fruit juice extracts. I thoroughly tested out the wash, using it every way possible. This includes shaving, washing, and using it as my shampoo. Normally I use shampoo and conditioner. My hair is gets difficult to comb or brush if I don't use conditioner, but it tends to get greasy looking fairly quickly too. I was pleasantly surprised that my hair was so soft and shiny, and no tangles! While my hair is short now, it still can be difficult to comb if no conditioner is used. Thankfully, this was not the case! I also put no styling products in it and let it dry to see what my hair did. It looks soft and shiny… just like if I used conditioner! I can't guarantee this would be the case for all hair types, but this mama is definitely pleased with how it turned out for her! As for the shaving and body washing, it did a great job. I really didn't have any issues. I had no razor burn, no dry skin, no weird/itchy feeling (I sometimes get that with body washes)… just a nice, refreshing wash with a touch of orange in the air.
The Soothing Cream test was my absolute favorite. That may be, of course, because I talked my husband into massaging my legs and back with it after my shower! Hehe. That aside, it was great. It's a full day later and my legs are still feeling super soft and smooth. It didn't leave any oily or greasy feeling, and the extra lotion washed off my husband's hands very easily. The Soothing Cream doesn't really have a scent either, so it would be great for use at work where you could be around people with lots of sensitivities (or if you have sensitivities yourself!). The Soothing Cream is also non-staining to cloth!
I also took a sample of the Soothing Cream to a coworker that has lots of sensitivities. She commented how soft her hands felt after using it, and a while later commented that she loved how soft her hands were even after she washed her hands. It's definitely a winner!
If all this fantastic stuff about these 3 products were not enough, Episencial goes and makes it even better by packaging their products in containers that are recycled, food-grade, non-leaching, with no residues of dioxins, BpA, phthalates, or other xenoestrogens. Need more? They use botanical, sustainably farmed, and certified organic ingredients. The products are also manufactured under solar power. They also use all natural ingredients, many of which are organic. Go check out their
ingredients
to learn more about what they use in their products and why these products not only prevent damage and sooth damaged skin, but also support skin immunity! From what I've tried, I've fallen in love with these products, and the lengths the company goes through to be green and offer natural products makes me love them even more. I would love to list pros and cons on these products for you, but I couldn't find any cons. The only thing I might want to change is offering a Soothing Cream with the same lovely orange scent that the Playful Wash has!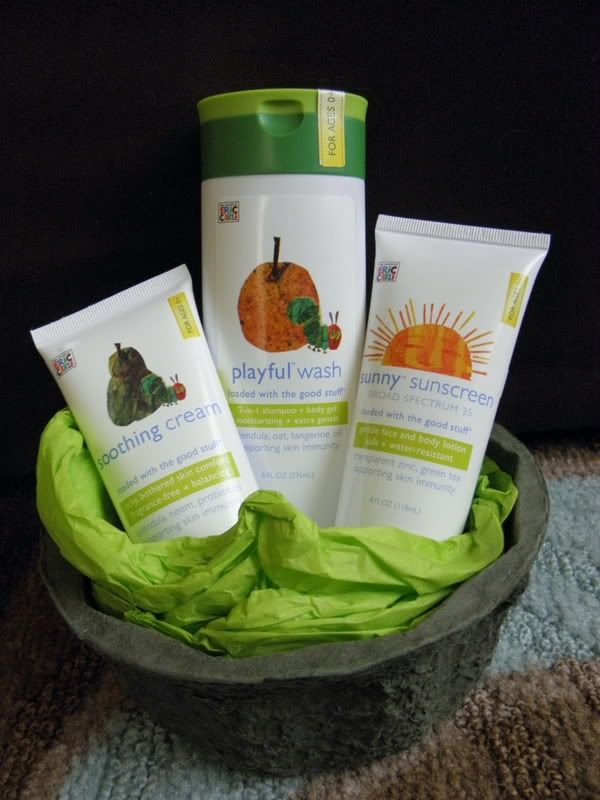 These products are only a couple of the products that Episencial has to offer, so head on over to their page to check out everything else! You can
shop by product
or
shop by skin concern.
The products are for ages 0+, so they are safe for everyone in your household, including your newborn.
To learn more about who Episencial is and what they believe, visit their
About Us
page. You can purchase your own
3-step system
for $30 (saving $5!) on their web page, or you can enter to win one below. Episencial was also nice enough to offer my readers a 20% discount at their
store
if you use the code EPIFLUFFY, and they have free shipping on orders over $45. Happy shopping!
Surprise! Episencial is going to offer a SECOND 3-step system to one of my readers! Enter to win in the new rafflecopter form below!
a Rafflecopter giveaway
a Rafflecopter giveaway

Disclosure: I receive sample(s) for the purpose of testing and review. These opinions are my own and may differ from those of your own. Thoughts Of Fluff is not responsible for shipment of the prize(s).