Today it's really disturbing what is being put in food. You've got the disturbing additives in fast foods, the danger of the artificial sweeteners everywhere you look, and good luck finding stuff without any food colouring! Yes, it's truly a time to be reading the ingredients on pretty much everything you purchase, and that can get time consuming! To save you a few minutes, Ella's Kitchen makes
organic baby food
(and toddler snacks) that you don't have to worry about. When you see "Ella's Kitchen" on the product, you can be certain that what you're purchasing for your little one is free of all that bad stuff!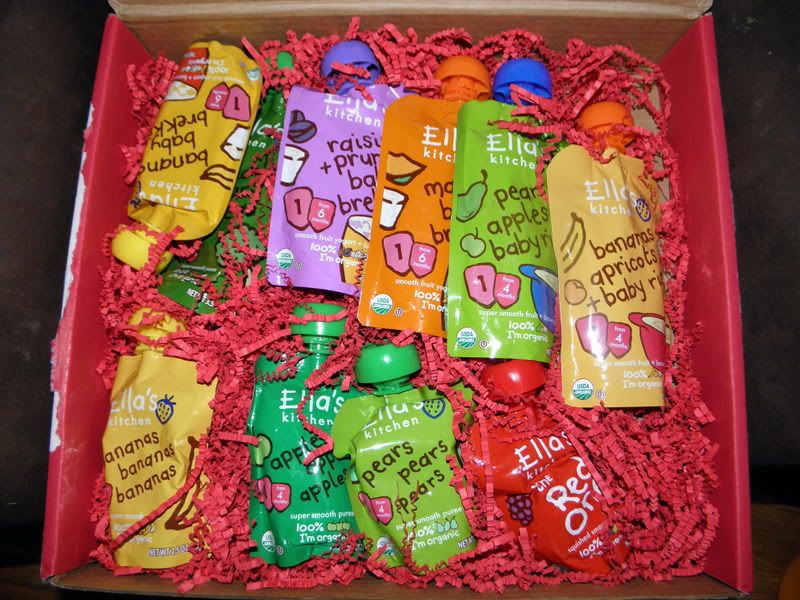 Ella's Kitchen was started by Ella's father, and to this day they are providing healthy meals and snacks that are 100% organic. The pouches have no added sugar, no added salt or water, and no preservatives or thickeners. Better yet, they are in BPA free packaging, so you don't have to worry about anything leaching into your little one's delicious foods. They also have no egg, wheat or gluten, so they are able to be consumed by even the more sensitive little ones!
My Bobble loves Ella's Kitchen products, and the pouches are no exception! While we were a baby-led weaning house, that doesn't mean that we never had a hungry baby while we were in the middle of a 4 hour drive! We liked having something on hand in case the only options around were fast food, especially since we won't eat the fast food. If we won't eat it, we most certainly weren't going to feed it to Bobble! Ella's Kitchen pouches fit perfectly into our side pocket of our diaper bag, and we always try to keep 2 flavours on hand. Usually one that is just veggies and then one that is just fruit. We have always used these as snacks or something to tide him over until we could give him table foods, but that doesn't mean we haven't made meals out of them when traveling! They have all sorts of interesting flavor combinations, Spinach Apple & Rutabaga, Raisin + Prune Baby Brekkie, and many more!
When we found out Bobble had a low iron count, we started using some of the higher iron content pouches, and also used some of the fruit pouches to mix in with his iron supplement. Since the pouches are re-sealable, we were able to mix just enough in with the supplement and then store the rest of the pouch in the fridge since they were good for up to 48 hours (refrigerated after opening).
If you haven't checked out their website yet, you definitely should! You can see all the yummy flavours available (although you might be sad if you accidentally go to the UK page first… I was so excited at all the flavour variety and then realized they weren't all available to me!), find
recipes
, read about
their story
, use their
store locator
, sign up to
be their friend
(to stay informed of new products, deals, and a chance to win a cool upcycled bag each month!), and more.
If you want to try out some of Ella's Kitchen pouches, you can find them near by! Ella's Kitchen products are available nationally at Kroger, Target, and Babies-R-Us (just to name a couple!), as well as Amazon.com, Diapers.com, Drugstore.com and many others. Ella's Kitchen also offered one of my readers a sampling of 10 yummy purees! Enter below to win!
a Rafflecopter giveaway
Disclosure: I receive sample(s) for the purpose of testing and review. These opinions are my own and may differ from those of your own. Thoughts Of Fluff is not responsible for shipment of the prize(s).