In my search for more eco-friendly
lunch boxes
, I happened across a variety of products available at Reusit.com and was impressed. They had so many different types of items, definitely something for everyone, and every food! I loved the many styles of products offered, and when they were kind enough to offer me a product to review, I had a lot of trouble picking one! After a lot of contemplation, I decided to test the
Lunch Pot byBlack + Blum
since it was different from any other container I'd ever seen. I then had to debate between the colours, but finally settled on white and green. One of the big things on the market right now that bothers me is the use of BPA in so many products… but not in these! These are BPA free!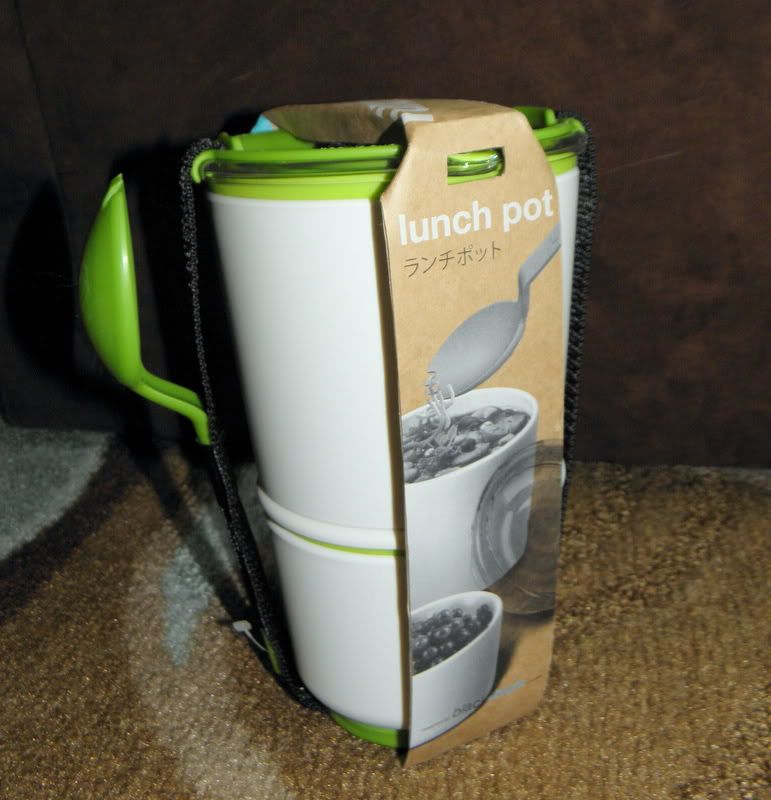 Out of all the products that Reuseit has to offer, one thing that really drew me to the Lunch Pot was the versatility. It looks like a giant cup when stacked up, has a strap to hold the two separate pots together, and has a spot to hold the spork that comes with it too. Everything you need is right there!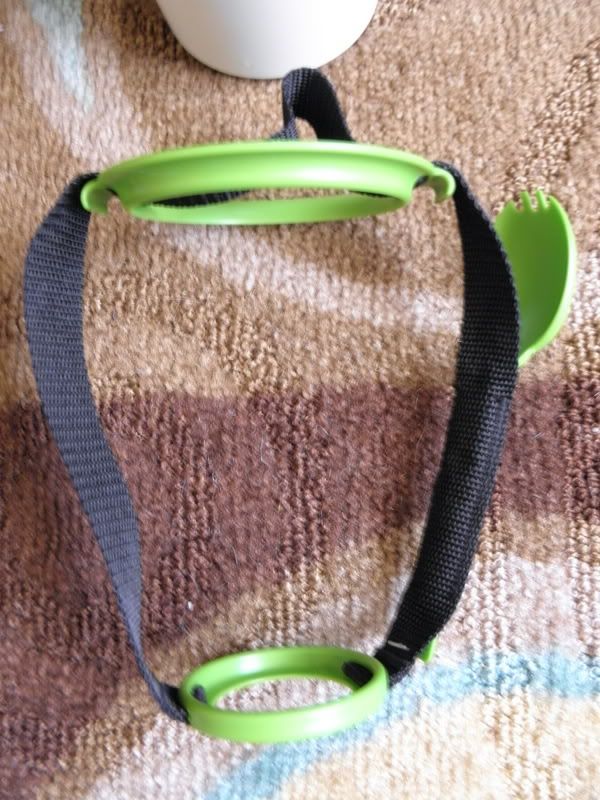 I filled the smaller container with some ranch garden veggie pasta salad, and filled the larger container with large chunks of delicious, juicy watermelon. Both items could easily create a mess if they leaked, but I had faith it the twist-on lids that these containers had. They looked like they sealed the containers very well. This was a good thing, because I accidentally knocked this over in my car on the way to work. No leaks!
I work long days, so I tend to snack throughout the day. Unfortunately, sometimes the smell of something I'm eating isn't very appealing to those sitting around me. When I take the pasta salad in the container it was purchased in, you can smell it throughout the day since the seal is really flimsy on the disposable package. My coworkers couldn't smell the pasta salad until the container was opened, so that says a lot for the seal on these containers! I ate the salad about 4 hours into my 10 hour shift, and it was the perfect temperature for me to eat (I have sensitive teeth). That being said, these are not insulated containers (nor do they ever claim to be), so please remember to keep them in the refrigerator if you need something to stay very cold. I wanted my food to be room temperature.
The large container held all my super juicy watermelon without any issues. Honestly, this container holds a lot of food! I was surprised at how much food I actually had with me for snacks that day! I did have a tiny bit of trouble stabbing the watermelon chunks with the spork since they were gigantic chunks and the spork prongs are short, but I still managed to get all the pieces with minimal effort.
The spork did a great job for holding the food and stabbing the food. I was surprised by how sturdy it was, as most sporks I've used tend to be flimsy. The spork would work well for pretty much any type of food, including soup. Yes, soup! These containers can also be microwaved, provided that you follow their instructions and limit the time they are in there (and don't heat up the lids). These can also be washed in the dishwasher (not the lids), though I washed them by hand for the purpose of this review.
I washed the containers when I got home (by hand, as mentioned above). Neither container was hard to clean, and neither container held on to any smell from the foods that had been in them. The only thing that was a giveaway that it had been used was a faint pink discolouration in the larger container from the delicious watermelon I had eaten earlier that day.

***** The discolouration actually came out after another wash -- yay! *****
All in all, I would say this product is fantastic! I love the versatility of it, and the ease with which it stacks into itself to make it more portable. All you have to do is tighten the strap and you are good to go! If I could change anything about this, it would be the size of the spork. While it works great, and may be fantastic for soups (I'm not a huge soup person, though), it's a bit too big for my mouth. I can get the entire thing in my mouth, but I cannot get my lip down onto the spork when I close my mouth around it. Minor inconvenience at best, but it meant I couldn't scoop pieces of the pasta salad out using my lips. I am, however, a tiny person, so this may be an issue that doesn't affect most people. Either way it goes, that really wasn't that big of a deal, and I could always slide my own spoon in the side if I really wanted to.
You can purchase the
Lunch Pot by Black + Blum
on Reuseit's website for $21.95, or check out any of their other awesome
lunch box
items! They were also generous enough to offer a Lunch Pot for one of my readers! You can enter to win one below!
a Rafflecopter giveaway
Disclosure: I receive sample(s) for the purpose of testing and review. These opinions are my own and may differ from those of your own. Thoughts Of Fluff is not responsible for shipment of the prize(s).