For anyone that has ever sunned their diapers, hung them out to dry, or just hang clothes out, this post is for you! When I first got my diapers, I used my dryer. Only my dryer, actually. Why? Well, it was getting near spring time, but it wasn't quite there yet. It was too cold, and I really didn't know much about them. I knew that drying in the dryer could shorten their life, but I was using the lowest heat setting possible so I wasn't too concerned by it then.
Sun started shining and I got a clothes line put up and happily went to the store to purchase those cheap, wooden clothespins that are about $1-2 for something like 100 of them. These will work just fine, right? Well, not so much. They had all sorts of problems. It had been years since I hung clothes out to dry (yes, years), so I forgot all about the annoyances clothespins can cause. They splinter a bit, they start to snag your clothing items, they will slip to the side when you don't apply pressure to open them just so..... and heaven forbid you leave them outside accidentally! They get spotty and start to mold. Yes, clothespins can really frustrate you. With diapers, I found I was even more hesitant to use them because I didn't want to snag anything, and for some of the inserts I couldn't even OPEN Them wide enough!
I was done with that. There has to be an easier way to do this. Perhaps I simply shouldn't use the cheap clothespins. I went back to the store and looked for more.... they didn't have anything else. Well, shoot! I decided to turn to the internet to see if I could find anything better. After much searching, I found some clothespins by
Moerman
that seemed to be what I was looking for. They looked nice, they were in a convenient little basket, they had grips on them, and they didn't look like they were going to fall apart or mold on me. The cost was a hair over $10 for 36 of them. That had me a bit hesitant, but after another day of using those wooden cheapies from the store, I placed an order.
I am pleased to say that these clothespins are one of my favorite cloth diapering accessories!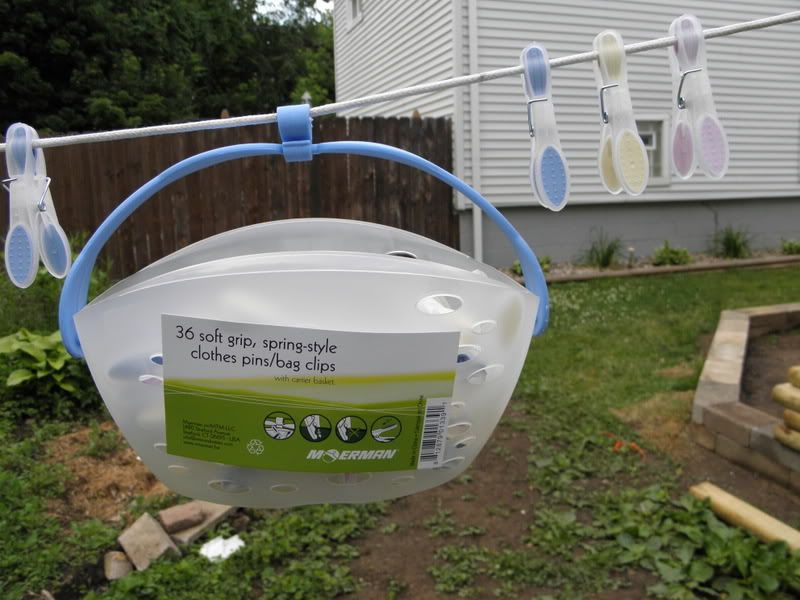 The basket is nice and sturdy, and it has holes on the sides (which is great for helping ensure they are dry when stored).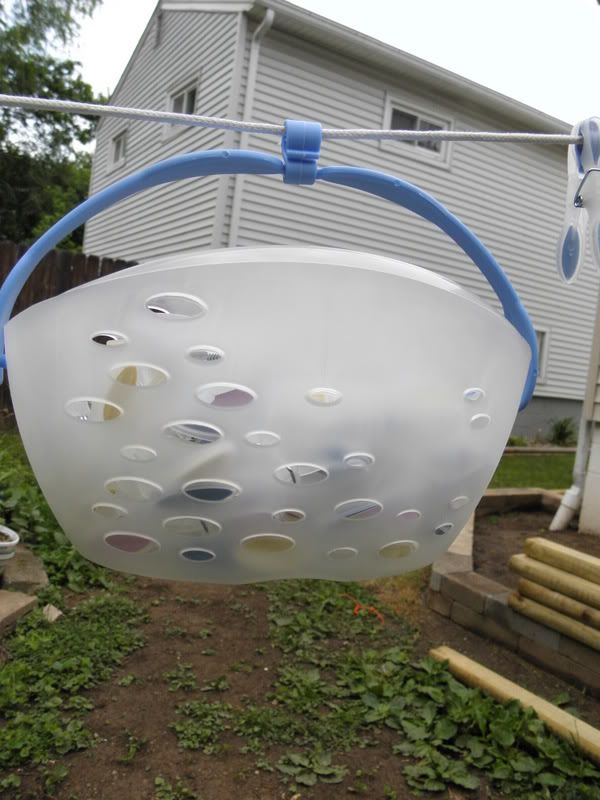 One of the best things about this basket is the hook that lets you put them right on the line. I can hook the basket right onto the line and slide it down as I hang things up (or pull them down). It's so much more convenient that clipping a bunch to your shirt or just putting them in the basket!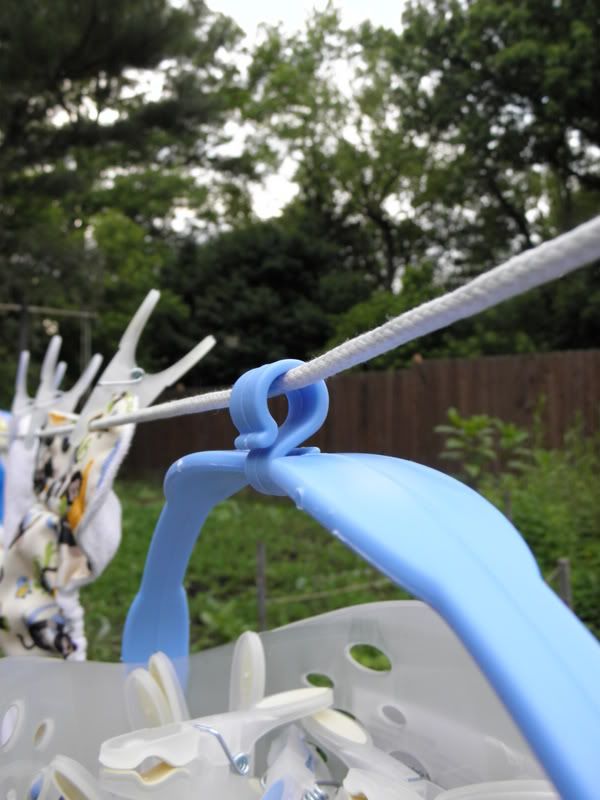 The clothespins have a no-slip coating on the inside of the pin (where they will be touching your clothes), and this coating also helps prevent any snags.
The same coating is on the outside of the pins to aid with grip: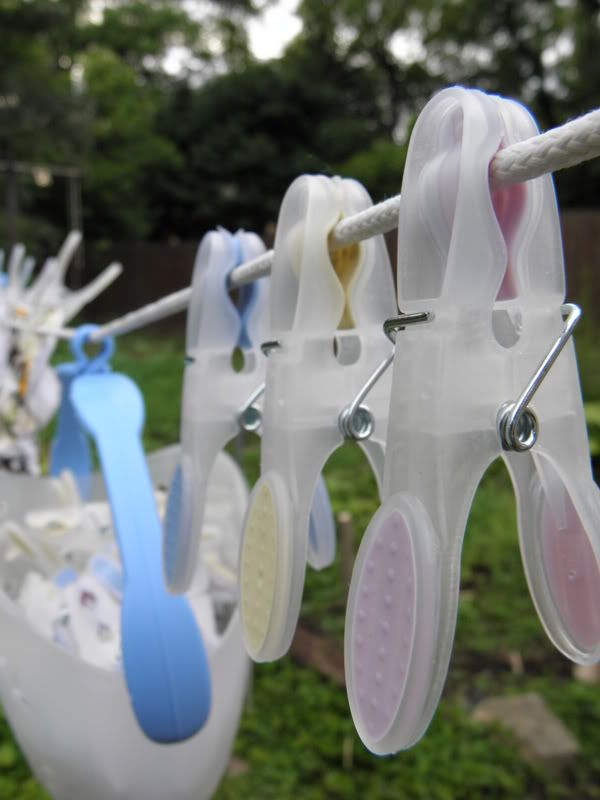 As you can see, there is also ample room for the opening where they hook onto the line. This was a nice change from the cheapie clothespins!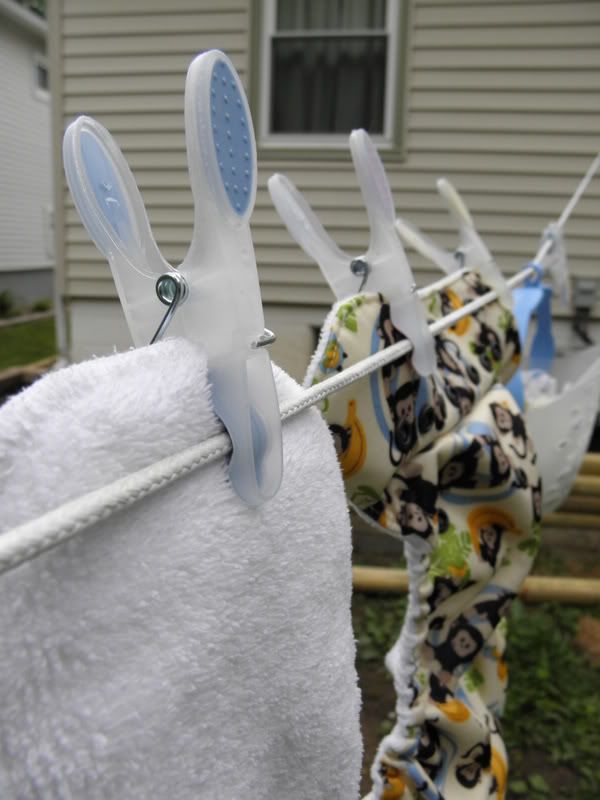 I absolutely love these clothespins, and have actually purchased a second basket of them in the last couple of weeks so I had enough to pin up all my wipes when I want to sun them! (Also for my regular laundry too, but mostly for my fluff!)
You can purchase these
Moerman clothespins on Amazon.com
for $10.63.
Disclosure:
The product mentioned above was purchased by me, and
I received no compensation for this publication. My opinions are my own and may differ from those of your own.