After writing my review and comparison on various brands of wipes, I saw that a brand I hadn't even tried had just won an award. I wasn't overly familiar with
Bummas
cloth wipes, though I had seen the name a time or two in various places online. I had heard good things about them, but had a lot of wipes already, and never really looked into purchasing any Bummas wipes. When Bummas offered to send me a set to review, I gladly accepted. I can tell you that I am pleasantly surprised with these wipes, and I'm not the only one!
I'll start out by saying my little Bobble loved the bright colours. We were sent a set of "Wild Ones" to test out, and I couldn't get a picture of them without my son trying to steal them. This was as close as I got to a good photo!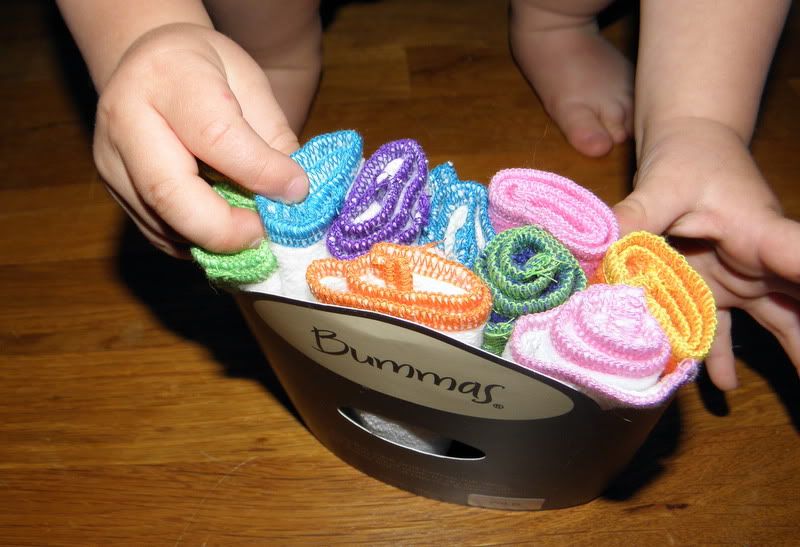 When I took the wipes out of the package, I was surprised that they were rectangular instead of square. In fact, they are 5"x7", not the squares I'm used to! I wasn't sure what to make of that at first. Honestly, I thought that it was going to take me more wipes to use on my son since I had less surface area to work with. I figured they would be great for just a quick wipe down after a wet diaper, and they are so soft I knew immediately they'd be great for blowing noses! They are 100% cotton, woven velour terry cloth. Like I said, they are soft! One side of the wipes have the little loops of fabric, while the other side has a closer weave and is incredibly plush. Even better, the package even says they won't pill, shrink, or fade. After having some of my other wipes shrink (or just having one side of them shrink), this is welcome news!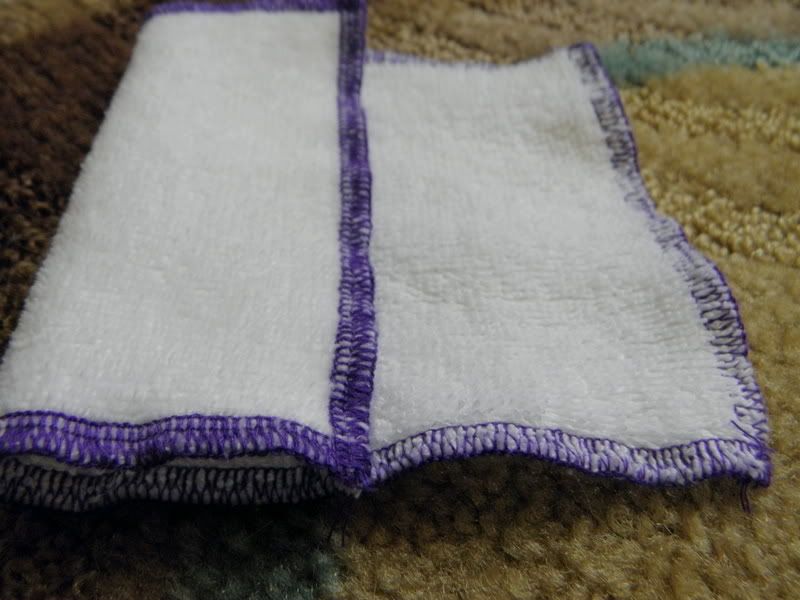 I prepped the Bummas and folded them, placing them atop all the other wipes we have so that they'd get used first. I forgot to tell my husband that I put new wipes in the container (he is a SAHD, for those who didn't know), so I got to test them out myself before I heard his opinion. In fact, I got to test them out with a messy diaper. I grabbed for a wipe and pulled a Bummas out of the container. I looked at the diaper (and the mess on Bobble's bum!), and back at the rectangular wipe. I still didn't see how this was going to be as effective with less material…. I'm going to need more wipes! I grabbed 2 more wipes and set them to the side as my back-up wipes. I sprayed Bobble with our wipe solution and used the side of the Bummas with more loops (to grab this mess better!) and wiped. It did a great job! I was done cleaning up my Bobble with ONE WIPE! I used a second for good measure, but it wasn't needed. The first wipe took care of all of the mess! I patted him dry with the other side of the wipe and did up his diaper.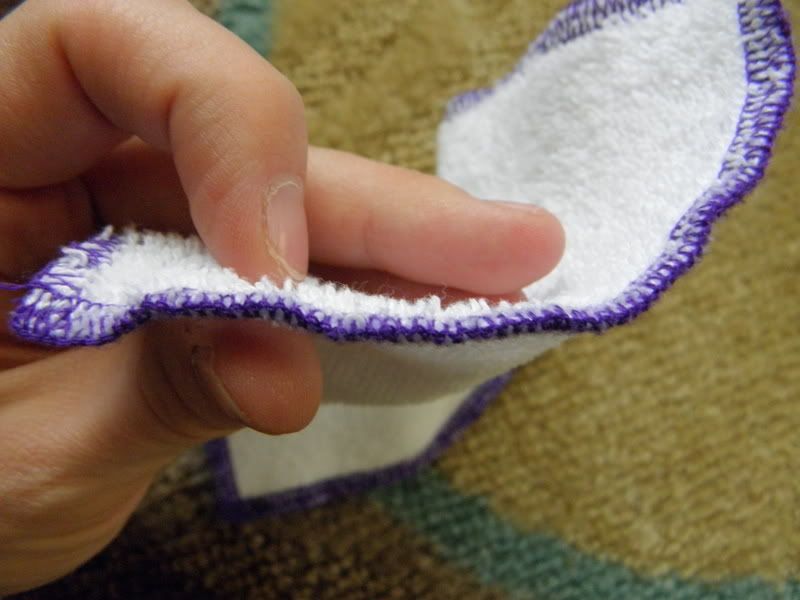 Now came another test…. cleaning the wipe out. We have a diaper sprayer, and we spray out our wipes when they were used on those messier diapers. They sprayed out very easily. I didn't have to spray one section repeatedly, waiting for anything to break free. It was a spray down and they were clean (well, clean enough to go into my washer, at least!).
I've decided that I like this rectangular size better than the square size of some other wipes. Not only was I wasting surface with the other wipes (by bunching, folding, etc.) while wiping, but these fold better for storage too! My husband also wanted me to share that he *REALLY* likes these wipes because they fold better and spray clean easier. Spraying clean is a big deal for him, especially while he's the only one at home with Bobble and he doesn't have time to stand there spraying and spraying… he has a toddler to chase after!
Overall, I would say I'm VERY pleased with Bummas Wipes. They are super soft, work fantastically, and come in adorable colours! You can pick up a package of
Bummas Wipes
for $14.95, or enter to win one below!
Disclosure: I receive sample(s) for the purpose of testing and review. These opinions are my own and may differ from those of your own. Thoughts Of Fluff is not responsible for shipment of the prize(s).