With maternity clothes, it seems to be people either love them or hate them. The main reason that I've found for people hating them? Because they get worn for such a small amount of time compared to the cost. You know, I find this to be the complete opposite for me, so I'll give you a little insight into my clothing world. Granted, I'm no fashionista, but I do have to look presentable for work and I like to be comfortable.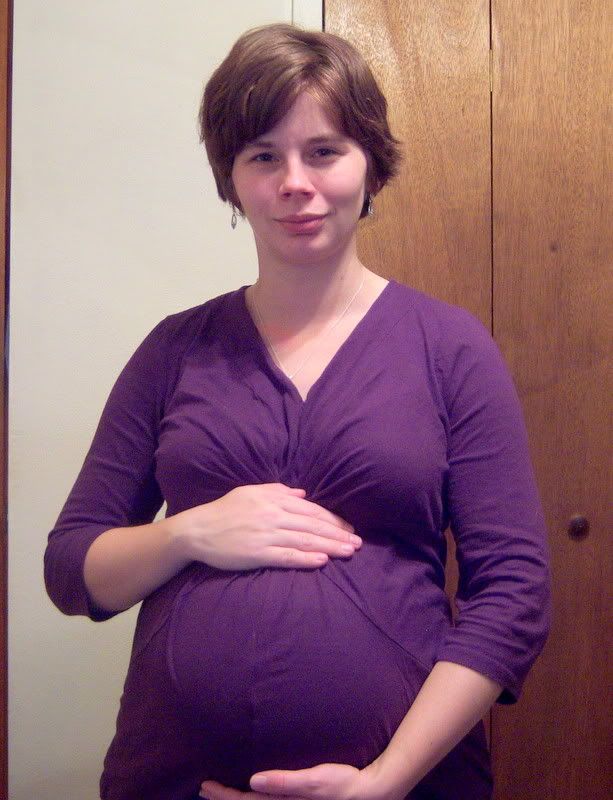 Me at 26 weeks


The first thing I feel I should mention is that I started shopping maternity clothes before I was ever pregnant. It happened by accident, honestly. One day I was doing a bit of thrift shopping when I saw a very adorable shirt with a unique pattern on it. I tried it on since it was my size, and it fit. I loved it, it looked brand new, I bought it for a couple dollars. Later, doing laundry, I saw the label that said it was Maternity. I stopped and thought for a minute, then realized that was something I never considered.
The next time I went out shopping for shirts, I looked in the maternity section. Granted, there are some very unflattering maternity shirts, the majority of what I found was very comfortable, looked nice enough to where I could dress it up to casual dress for work, or wear it with jeans and look good, and it wasn't an unflattering fit on me. In fact, it didn't look bad at all. Some maternity clothes just make you look pregnant (which is good if your old clothes are just making you look pudgy when you're really pregnant), but certain clothes really didn't look bad. Dare I say even flattering?
This was proven to be my saviour one summer when I was at my wit's end trying to find a pair of shorts. I am not 15, I don't want half of my butt hanging out the shorts. I'm also not 50, I don't want them coming up to my ribs. I was darn near ready to give up and accept I will never find a pair of comfortable shorts that had longer than a 1" inseam and a low rise…. And then I happened past a maternity store that had cotton shorts on the table at the front of the store. I looked at them, realized they were super comfy (I wanted them for working out/working around the house), noticed that they had a draw string at the waist in case I did gain or lose a little… they'd still fit, and then realized they were less than $10. Win-win-win!


My first (intentional) maternity shirt purchase pre-pregnancy (Pictures on top taken 9-23-12, Maternity photo taken at 30w)


I was hooked ever since then. I just shopped for what would be multi-purpose. It wasn't too long after starting my journey with actually shopping 80% of the time in the maternity section that I ended up pregnant with Bobble. I'll start off by saying this: Maternity pants are a completely DIFFERENT story. Yes, they are expensive. Yes, they are necessary after a certain point. No, you don't want to wear them when you don't have to. Shirts, dresses, sweaters, skirts, shorts…. Well, those are a different story.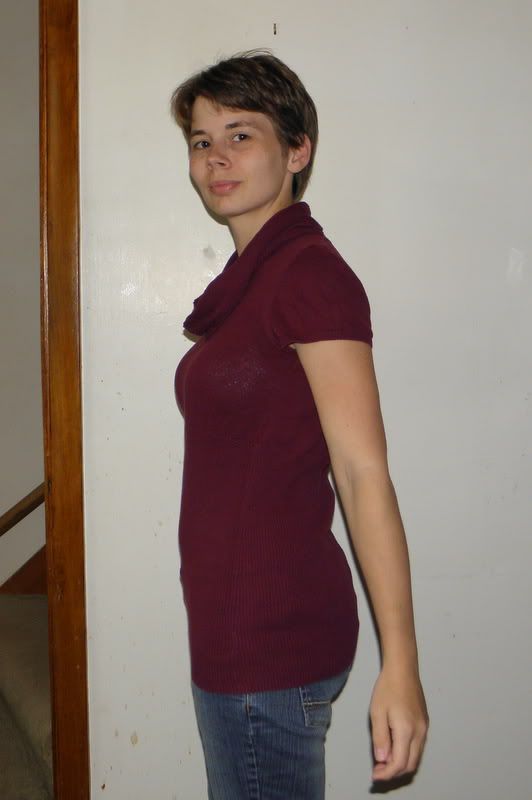 (Top pictures taken 9-23-12, maternity photo taken with a horribly crappy web cam at 20w)


I spent time picking out clothes that I would be able to use 3 ways. My criteria was they had to be usable at least two of the 3 ways, but mostly I wanted all or nothing. (It better be a darn good sale or adorable article of clothing to have me buy it otherwise!) It had to be comfortable no matter what, so I didn't even include that in the criteria mentioned above. If it's not comfy, I'd never buy it. Plain and simple. So, other than being comfy, the clothes must:
Be able to be dressed up
Look flattering on me regardless of whether I am pregnant or not
Be able to nurse in
I dislike lifting my shirt up for nursing, and I never was able to afford those awesome, cute tops like the Toni Top that make nursing super easy. I cringe at the thought of paying $20 for a shirt, so the nice nursing shirts were definitely out! Of course, something simple like an
Undercover Mama
nursing tank helps a lot. I
love
these shirts, and I know I will use them well after I stop nursing Bobble. They are great for layering any outfit, but I still only have the straps of my bra to deal with. I hate the double straps under a shirt, so this was really nice. The older version of the shirts have a hook that you just slide over the top of your bra (doesn't even need to be a nursing bra!), while the newer shirts have both the hook AND a stretchy little 'O' that you can put over the plastic hook of your nursing bra and the snap your bra back together. The newer shirts are brilliant since they work with regular bras too, making this shirt fantastic for any layering. Of course, it makes breastfeeding easier too, as sometimes the necklines of a shirt I want (or a sweater) are not very stretchy and I simply can't get enough (or anything) out for Bobble to latch on to. The Undercover Mama tank keeps my belly covered up for those times I have to lift my shirt.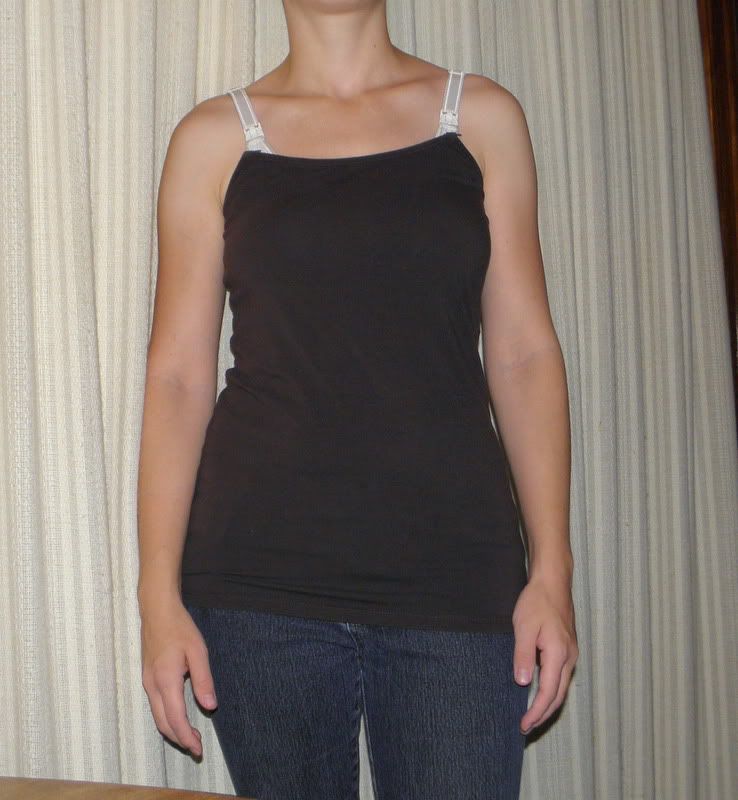 There are also a handful of styles of maternity shirts that fit all the criteria above, such as the Oh Baby! Motherhood Maternity line at Kohl's (or at Motherhood Maternity). I've discovered that the V-neck shirts not only help make the shirt a bit dressier (just add a necklace and you're ready for work!), but are stretchy enough to pull down to nurse instead of lifting up. They make ¾ length sleeves, t-shirts, and sweaters in that style (side-ruched v-neck), though the sweaters don't have enough give to nurse by pulling down. I most recently bought myself a nice ¾ sleeve shirt from Kohl's and I had a few co-workers saying how great it looked and asking where I bought the shirt. One of them is now going to start shopping in the Maternity section at Kohl's. Keep in mind that Bobble is now 20 months old, so I'm 20 months post-partum. They were shocked because they didn't think it looked like a maternity shirt (and it doesn't!), but I know it will work in the future for me too.
There are also some super cute empire-waist clothes that are in the maternity section that can be flattering for anyone who happens to like that shirt! I got an adorable cross-front, empire waist tank top at Kohl's (they are clearance now, since it's no longer summer!) that looks great with jeans or work pants. I usually wear an Undercover Mama shirt with it if I wear it to work simply to cover a wee bit more since it is a cross-front shirt, but I don't need to. I also found similar dresses at Kohl's (Cross-front/v-neck, empire waist) this past summer that I've gotten many compliments on at work and from my hubby. Best of all, if I end up heavily pregnant during summer months, I know I have clothes I can wear and be comfortable without having to go buy a bunch of stuff!
So, frugal shoppers, take heart! Whether you are expecting, planning for the future, nursing, or just looking for some more comfortable clothes to wear that are able to be dressed up or down, you can find something you will like (that will work!) in the Maternity section of your favorite store (that carries maternity, of course). You'll feel good that you bought multi-purpose clothes, better if you shop and hit the sales (like I do), and you'll look great and be comfortable! (Also, they do *NOT* look like moo-moos!)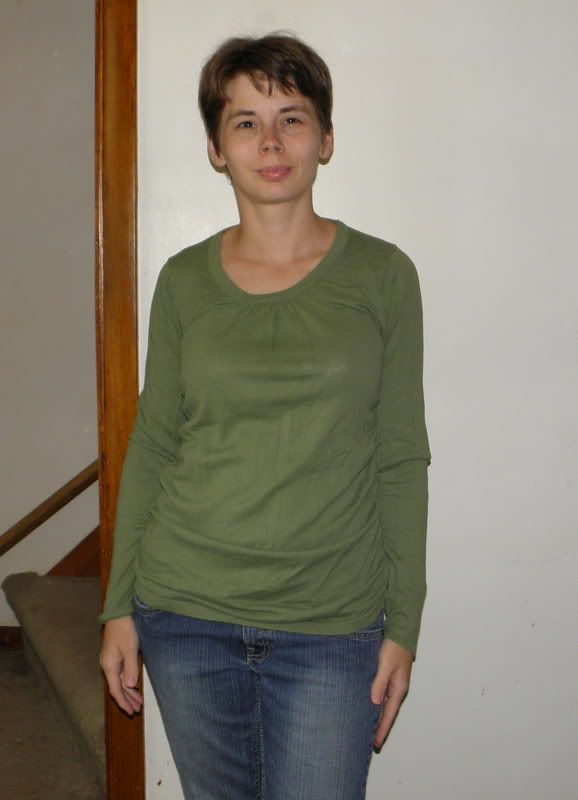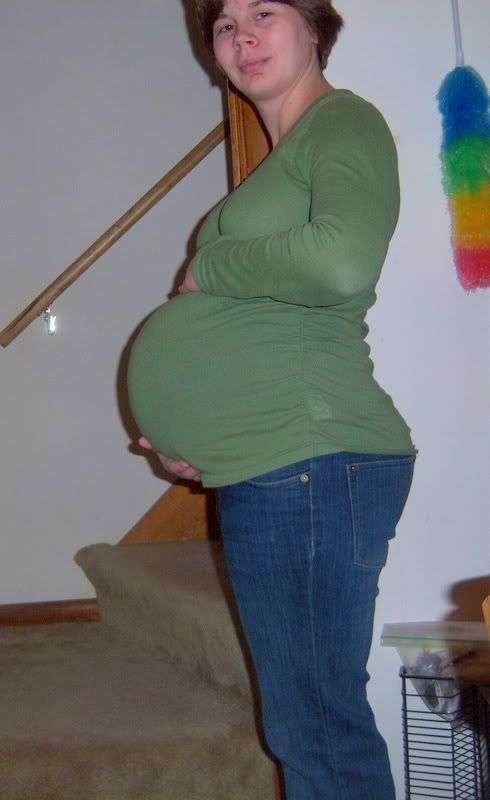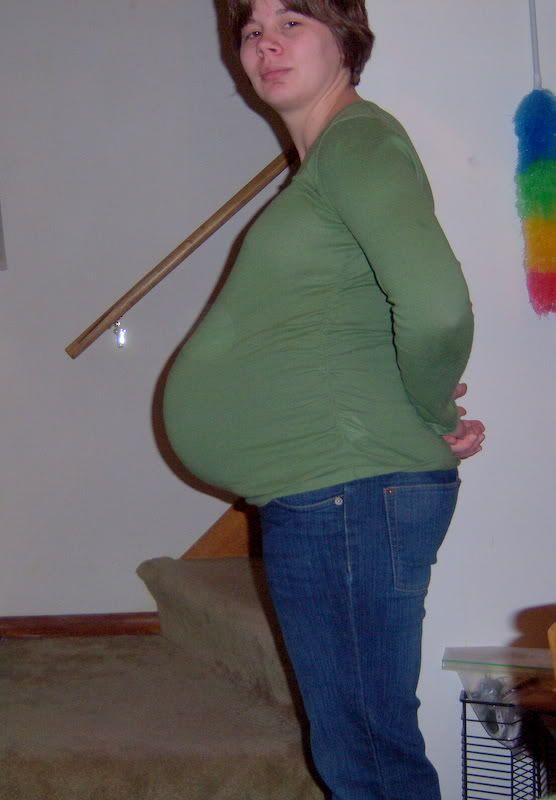 (Top photos taken 9-23-12, maternity photos taken at 36w... 1 day before I went into labour!)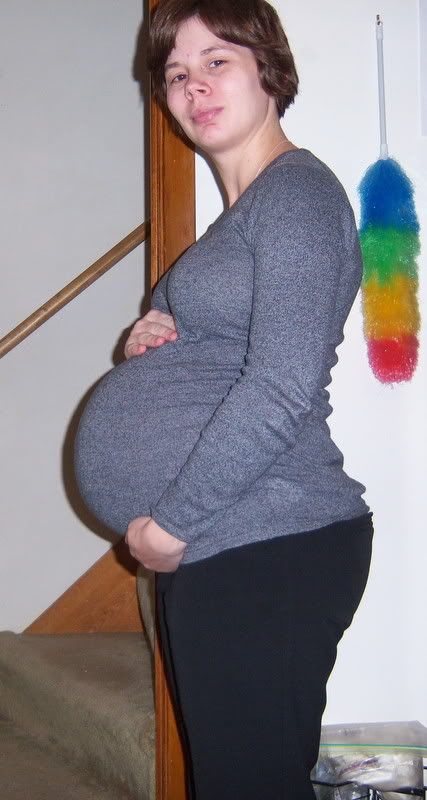 (This lone picture from 32 weeks is the exact same shirt as the green above, just in gray)
Also, don't forget that's a great place to go look for cotton shorts that don't have your butt hanging out! (They didn't have an elastic band that went up over your belly or anything, just a wide, stretchy cotton band with a draw string.)
Disclosure: The products mentioned above were purchased by me. None of the aforementioned stores or brands sponsored this post in any way. My opinions are my own and may differ from those of your own.